Daddy's Home is a 24 x 20 Giclee Limited Edition Canvas Print, the Edition Limited to 75 canvas prints.
Although this artwork of a couple of old cowboy boots seem relatively simple in both subject and composition, it tells a story. A story that may be sad or one filled with joy. The old boots are in a setting that hints of a feminine presence. The wall paper with the butterfly's and flowers are probably not of a cowboy who owns the boots choosing. Other visual hints are the rug and the well kept wooden floor. Seems all the cowboy contributed was the boots. That's why I named it "Daddy's Home".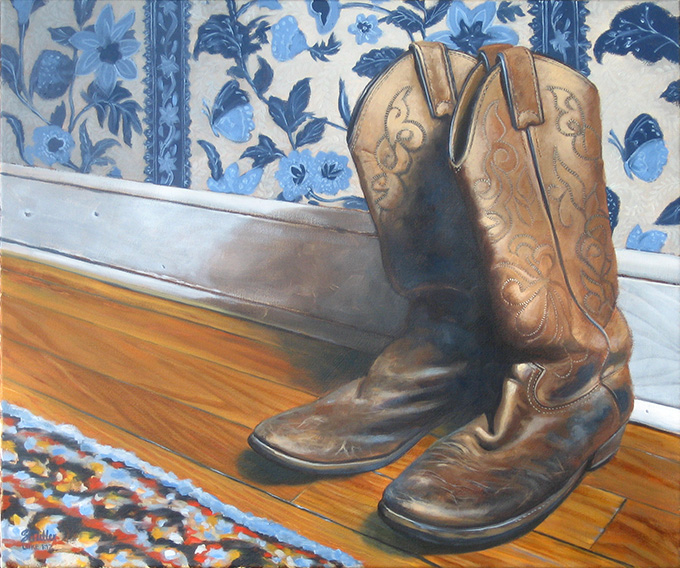 America is in a crisis brought about by the lack of fathers. Either physically missing from the family or emotionally absent – both have contributed to a nation that is in decline. Malachi 4:5 and 6 mention that if the hearts of the fathers are not turned back to their children and the children's hearts not turned back to their fathers, the nation will be under a curse. America is there, in the middle of the curse.
This work of art, available in this quality Limited Edition Print points back to the solution…fathers need to be back in the house and engaged with their families.
To order this print, see order form below.
What is a Giclée?
One thing Giclée prints are not — they are not the mass produced reproductions you would find at a home decor store. These Giclées are absolutely unique. Like the long standing European tradition of rendering one image at a time, these giclée images are printed one at a time on canvas, using vivid archival inks. These unique prints capture even the most subtle hues, values and small details of the original painting. Giclée prints produce deep, saturated color which are as close to the original artwork as is possible.
The giclées I offer here are all individually signed and numbered, according to the edition – an edition which is always limited to one-hundred prints or LESS, depending on the edition. When you consider the attributes of these canvas prints – LOW NUMBER EDITIONS, the BEST COLOR REPRODUCTION POSSIBLE and ARCHIVAL INKS – owning one of these Giclées Canvas Prints is truly the next best option available for enjoying a one-of-a-kind work of art.