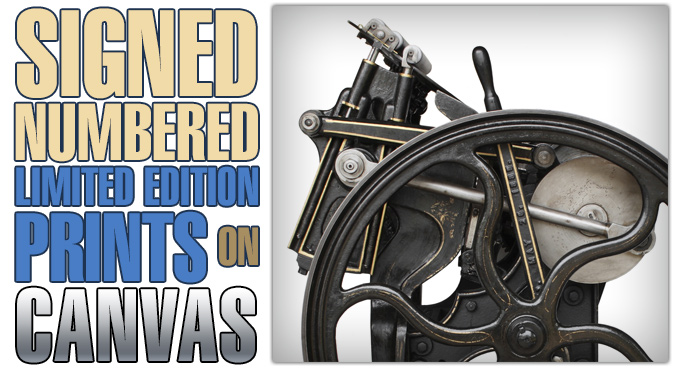 Although I have painted hundreds of original paintings in various mediums, on occasion I offer a VERY LIMITED number of unique and rare Giclée Signed/Numbered Limited Edition Canvas Prints.
Usually, I release these because of the request of patrons when a particular original painting has been SOLD. I have found that this allows others to own an exclusive EDITION NUMBER of an one of a kind work of art.
Example: If the print Edition is set to have only 50 prints made, the artist signs the canvas print, and also inscribes by his signature "1/50", indicating that the print is the First of Fifty to be printed…ever. The SECOND print sold will have "2/50", so forth and so on. The LAST PRINT will be marked "50/50", ending the edition.
The table below list the Limited Edition Giclée Prints currently available.
What is a Giclée?
One thing Giclée prints are not — they are not the mass produced reproductions you would find at a home decor store. These Giclées are absolutely unique. Like the long standing European tradition of rendering one image at a time, these giclée images are printed one at a time on canvas, using vivid archival inks. These unique prints capture even the most subtle hues, values and small details of the original painting. Giclée prints produce deep, saturated color which are as close to the original artwork as is possible.
The giclées I offer here are all individually signed and numbered, according to the edition – an edition which is always limited to one-hundred prints or LESS, depending on the edition. When you consider the attributes of these canvas prints – LOW NUMBER EDITIONS, the BEST COLOR REPRODUCTION POSSIBLE and ARCHIVAL INKS – owning one of these Giclées Canvas Prints is truly the next best option available for enjoying a one-of-a-kind work of art.
THUMBNAIL
DESCRIPTION
PRICE
Open Range - 36" x 24" - Signed, Numbered, Limited to an Edition of ONLY 50 CANVAS PRINTS

CLICK HERE FOR MORE INFORMATION AND ORDER FORM

Option #1

-Stretched on canvas stretcher bars -

$625

Option #2

-Rolled in Tube -

$575 Shipping is FREE in the U.S.
No International Shipping

Allow 10 working days for delivery (approx. 2 weeks)



Work Zone - 30" x 24" - Signed, Numbered and Limited to an Edition of ONLY 48 CANVAS PRINTS

CLICK HERE FOR MORE INFORMATION AND ORDER FORM


Option #1

-Stretched on canvas stretcher bars -

$525

Option #2

-Rolled in Tube -

$475 Shipping is FREE in the U.S.
No International Shipping

Allow 10 working days for delivery (approx. 2 weeks)



Leddys - 12" x 24" - Signed, Numbered, Limited to an Edition of ONLY 100 CANVAS PRINTS

ARTIST PROOFS AVAILABLE


CLICK HERE FOR MORE INFORMATION AND ORDER FORM

Option #1

-Stretched on canvas stretcher bars -

$225

Option #2

-Rolled in Tube -

$175 Shipping is FREE in the U.S.
No International Shipping

Allow 10 working days for delivery (approx. 2 weeks)



The New Isis - 12" x 24" - Signed, Numbered, Limited to an Edition of ONLY 100 CANVAS PRINTS

ARTIST PROOFS AVAILABLE


CLICK HERE FOR MORE INFORMATION AND ORDER FORM

Option #1

-Stretched on canvas stretcher bars -

$225

Option #2

-Rolled in Tube -

$175 Shipping is FREE in the U.S.
No International Shipping

Allow 10 working days for delivery (approx. 2 weeks)



Daddy's Home - 20" x 24" - Signed, Numbered, Limited to an Edition of ONLY 75 CANVAS PRINTS

CLICK HERE FOR MORE INFORMATION AND ORDER FORM

Option #1

-Stretched on canvas stretcher bars -

$355

Option #2

-Rolled in Tube -

$305 Shipping is FREE in the U.S.
No International Shipping

Allow 10 working days for delivery (approx. 2 weeks)




Image Bearer - 20" x 24" - Signed, Numbered, Limited to an Edition of ONLY 75 CANVAS PRINTS

CLICK HERE FOR MORE INFORMATION AND ORDER FORM

Option #1

-Stretched on canvas stretcher bars -

$475

Option #2

-Rolled in Tube -

$425 Shipping is FREE in the U.S.
No International Shipping

Allow 10 working days for delivery (approx. 2 weeks)